When:
April 21, 2021 @ 11:30 am – 1:30 pm
2021-04-21T11:30:00-07:00
2021-04-21T13:30:00-07:00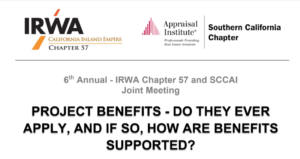 Mr. Kuhn and Mr. Caringella will be discussing project benefits and
their significance in the eminent domain arena. Material to be
covered will include the statutory and case law landscape that gives
rise to the issue of project benefits, when and how they may apply,
and methods and techniques used for quantifying benefits. The
MidCoast light rail project and other public projects will be discussed
that will illustrate a range of potential sources of benefits and how
potentially appraisers can measure benefits. Tips and tricks and
sources of data will be discussed. The presenters will provide a
perspective from both the attorney and the appraiser, including
experiences through the lens of both public agencies and property
owners.
Bradford B. Kuhn
Partner, Orange County
NOSSAMAN LLP
Brad Kuhn serves as Chair of Nossaman's Eminent Domain & Valuation Group, likely the largest group of
skilled eminent domain attorneys in California and the United States. Brad is a real estate and business
litigation attorney, with a particular emphasis in the transportation, energy/gas, water, land-use
development, and telecommunications industries. He is a recognized leader in advising on all real
property aspects of infrastructure and development projects, and has led some of the largest projects in
the nation, cumulatively totaling in excess of $25 billion. He represents public and private sector clients
with eminent domain, inverse condemnation, land use/zoning, landlord/tenant, construction, and other
real estate and business disputes.
Brad's work and accomplishments have been profiled in numerous publications. He has been featured on
the cover of Right of Way Magazine, and he has been called upon to present across the country and
oversee multiple treatises and courses on real estate. Chambers & Partners, the guide to the world's best
lawyers, recommends him for the full span of land use and infrastructure matters — particularly eminent
domain and valuation disputes — and commends his "practical, business-minded advice" and his "high
level of decorum in dealing with the other sides." Brad has also been awarded the CRE® designation by
the Counselors of Real Estate®, an international group of real estate professionals recognized as leading
advisors in complex real property matters.
Some of Brad's other accolades and recognitions include:
Recognized by the Recorder as a California Trailblazer, a recognition given to only a "handful of
attorneys that are truly agents of change" and have "made significant marks on the practice, policy
and technological advancement of their practice."
• Named to the Daily Journal's Top 20 Under 40 list, a recognition given to the top 20 lawyers in
California that are on the cutting edge of legal issues, and who are making an impact on changing
an industry, region or society;
• Chosen for individual recognition by Chambers USA for Real Estate: Zoning/Land Use Law;
• Recognized as the Top Rated Lawyer in Land Use and Zoning by the American Lawyer;
• Named the Best Land Use/Zoning Attorney in Orange County by OC Metro/Orange County
Register;
• Recognized as the Best Eminent Domain Attorney by US Business News' Legal Elite;
• Repeatedly acknowledged on Up-and-Coming Top 25 Orange County and Up-and-Coming Top
100 Southern California Rising Stars lists; and
• Awarded an AV-Preeminent Rating by Martindale-Hubbell, a rating given to only those attorneys
who exhibit the highest level of professional excellence based on a review of their peers.
Brad is general counsel to the International Right of Way Association (IRWA), where he has also served
as President of the Inland Empire Chapter and has been named the Professional of the Year. He is also
the only attorney serving on the Advisory Board to Mobility 21, where he works with industry leaders to
solve the transportation challenges facing Southern California.
Robert P. Caringella, MAI, SRA, AI-GRS
Principal
Jones, Roach & Caringella Inc.
Rob Caringella is co-owner of Jones Roach & Caringella Inc. and has been in the appraisal field for 33
years. He has a BA degree in Management Science from the University of California, San Diego.
Mr. Caringella is state-certified, and holds the MAI, SRA, and AI-GRS designations conferred by the
Appraisal Institute. His experience includes a broad range of residential, industrial, and commercial
properties involved in litigation, lending, estates and trusts, government acquisitions, fair political practice,
tax appeal, endangered habitat evaluation, and damage studies. He has extensive experience in the
eminent domain and title defect arenas, and has testified many times in court, mediation/arbitration, and
depositions. Rob also has many sub-specialties including mobile homes, mitigation land, and fractional
interest appraisals. Mr. Caringella has served multiple times as a "third appraiser" to assist in dispute
resolution.
Some examples of appraisals include:
Transportation and Utility Corridor Acquisitions
 Master-planned communities
 Regional Shopping Centers
Adaptive Re-use Properties
Air and Subterranean Rights
 Military Aircraft Manufacturing and Maintenance Facilities – 5 million square feet +
Duty-Free operations
Luxury Residential
Mt. Soledad Cross in La Jolla
Mr. Caringella has served the Appraisal Institute on the National Board of Directors, Vice-Chair of ADQC,
National Finance Committee, Chapter President, and many other committees and project teams. He
served for several years on the Board